LuftMUC - by Vince Perraud
Luft-GB - photographed by Vince + Sev
Luft-GB - photographed by Rèmi Dargegen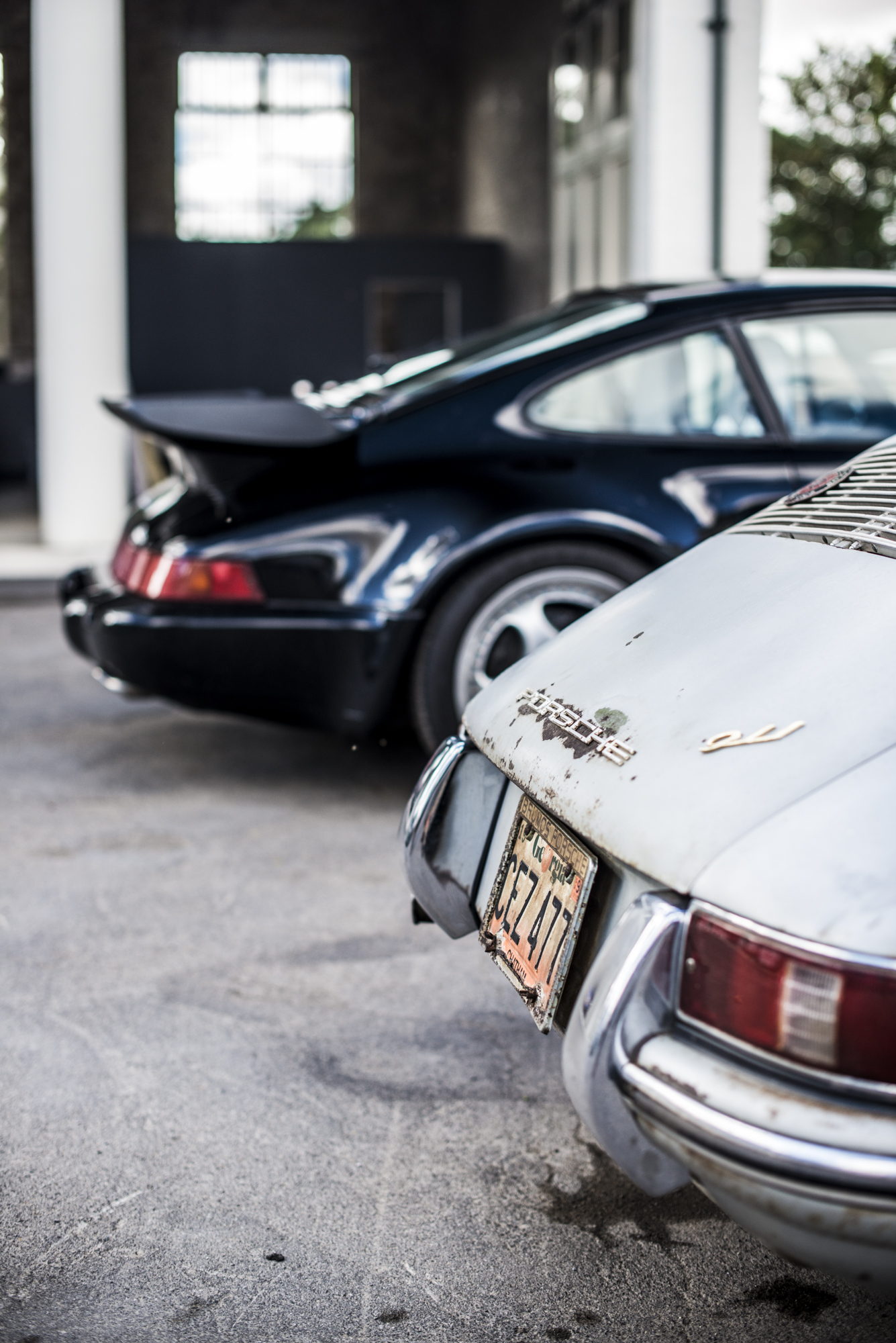 Luft 5 - photographed by Larry Chen
Luft 5 - photographed by Nevin Pontious
LUFtGEKÜHLT 4
Crafted Market / Port of Los Angeles
May 7, 2017
It was obvious from the multifarious congregation at Luftgekühlt 3 that air-cooled enthusiasts are a disparate bunch. Despite the sheer volume of incredible storied cars arriving at the gates from dawn we managed to roll a handful through our makeshift studio in the the cavernous glass walled factory hall of Modernica's industrial campus to capture a cross section of the eclectic assembly in portraits in the amazing natural light of the glass walled hanger.
"Good things happen when good people do good things for a good cause!" – Deus America
The crowning jewel of Sunday's Luftgekühlt at Modernica was the RM Sotheby's auction of Deus x Luft custom items and the piece de resistance, a rally style 1985 911. Proceeds of the auction benefitted the Autumn Leaves Project, a charity dedicated to pancreatic cancer research run by musician Butch Walker, who lost his dad to the devastating illness.
Sunday, April 10th, Howie Idelson and Patrick Long threw their third Luftgekühlt party, this time on the remarkable grounds of Modern furniture manufacturers Modernica in Vernon, CA. We were joined by hundreds of car owners and thousands of passionate friends, many of whom flew in or traveled from points far and wide to celebrate all things air-cooled and participate in the unique culture that surrounds Porsche. Across the board, the entire day exceeded our wildest dreams, and in the end we were able to break bread with so many people, not to mention see, hear and smell an estimated 450 cars within the venue.
LUFtGEKÜHLT 3
Deus Emporium, Venice, California
Our next event will be held April 10, 2016 in downtown Los Angeles, at a location that's still under wraps, so we invited some close friends and compadres to the ever-awesome Deus Emporium in Venice to scoop them on what's shaping up to be a very eclectic and fun event. Photos here, courtesy and © Nevin Pontious / Deus Customs USA
LUFtGEKÜHLT 2
Bandito Brothers Show Space, Culver City, California
March 1, 2015
Well, after we all had a ball at our first event in 2014, we thought we'd level up a bit for our sophomore effort. Thankfully, the bros at Bandito Bros. were keen to collaborate and it just so happens they have an incredible studio cum office in Culver City. More square feet and more indoor/outdoor space means we were able to accommodate many more cars, and the pièce de résistance had to be Bruce Meyer rocking up in his Le Mans-winning 1979 Porsche 935 K3, all sound, fury and oil smoke, parting the seas of humanity and parking like a rockstar in the truest sense of the word. Photos here, as always courtesy of and © man/myth/legend Nevin Pontious / Deus Customs USA.
LUFtGEKÜHLT 1
Deus Ex Machina, Venice, California, USA
APRIl 22, 2014
It was all a dream! Howie Idelson and Patrick Long put their money where their mouths were and teamed up with the mad scientists at the Deus Emporium of Post-Modern Activities in Venice, CA to throw their first air-cooled shindig. Cars spilling out of the lot and onto the sidewalks, taking over neighbors' parking spaces and a whole bunch of car people milling around made for one heck of an inaugural event. Photos here, courtesy and © Nevin Pontious / Deus Customs USA