Spanish for Advanced Learners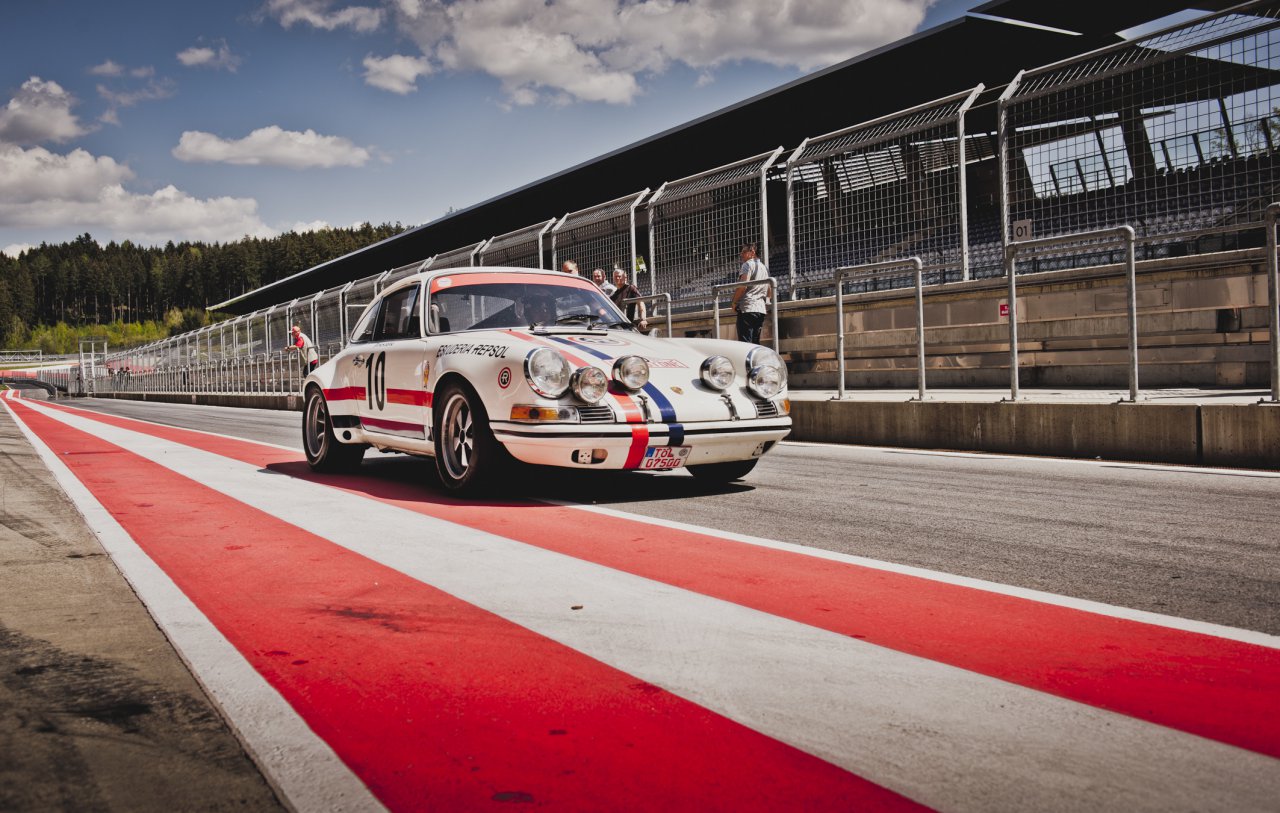 Author: Jürgen Gassebner / Photographs: Stefan Bogner for Curves Magazin
At the beginning of the 70s, the two Spanish rally drivers Eladio Doncel and Alberto Ruiz-Giménez competed in two identical Porsche 911 ST 2.3s. One of the Group 4 911s has survived and in Bavaria today is still cherished, cared for – and driven.
Nikolas Knoll's two Porsche 911 ST 2.3s flew in formation around the Red Bull Ring in Styria for the photo shoot. The original can be recognised by the four Cibie spotlights and the absence of a tow hook. Looked at from behind, the two 911 ST 2.3s are again virtually indistinguishable. The connoisseur will notice a slight difference in the exhaust system. The original is fitted with a third tailpipe.
Repsol.
When racing fans hear the name of the Spanish oil company, they inevitably associated with great motorsports events and technically advanced works teams. Competing with motorbikes in MotoGP, and with cars on race tracks and in rallies.
As early as 1970, Repsol decided to form a motorsport team managed by Spanish rally driver Eladio Doncel with a budget of more than 8 million pesetas, which at that time was equivalent to around 125,000 US dollars. The vehicles: two Porsche 911 ST 2.3s with Group 4 specs, which were also significant in terms of the tax situation. In accordance with Spanish law, these racing cars were regarded as sports equipment and, unlike Group 3 vehicles, were thus subject to neither customs duties nor import sales tax.
Eladio Doncel collected the cars personally in Stuttgart and, fitted with the customs plates (428-Z-9869 and 428-Z-9743), took them to Spain. It didn't take long before Repsol's logo – the white "R" on a blue background surrounded by a red circle – was emblazoned on the two racing 911s. Eladio Doncel and Alberto Ruiz-Giménez, together with their co-drivers, competed in numerous rallies. In 1970, they dominated the Spanish rally championship events and, at the end of the season, Alberto Ruiz-Giménez ultimately won the "Campéon de España de Rallyes" title, followed by Eladio Doncel. The team held the Porsche flag high in Spain and competed successfully until September 1972, when Eladio Doncel had a serious accident  in the "Rallye Internacional de Oviedo", as a result of which his car was damaged beyond repair. Eladio Doncel and his co-driver Antonio G. Mantecón were severely injured during the accident and Doncel retired completely from any active involvement in motorsports.
"El Oso" – "the Bear" –, as the nickname for Alberto Ruiz-Giménez goes, competed in a number of other track races in 1972, driving an Opel Commodore, while his Porsche 911 ST 2.3 was taken over by Spanish driver José Manuel Lencina. In the mid-80s, a Porsche factory customer, Miguel Lopez Jiménez, ultimately bought the car, had it repainted and used it on the road. Then, early 2015, this 911 ST 2.3 found its way into the hands of its current owner, Nikolas Knoll, in Munich.
Although he had studied business administration, the Bavarian had busied himself since childhood with road vehicles and automotive engineering, initially with mopeds, and then with cars. For some 15 years, he has been working solely with Porsches. "I had become infected with the Porsche virus, however, a lot earlier through a friend who regularly had cars built by Helmut Pietsch in the former customer sports department. As a young rally enthusiast, I was of course fascinated by it all", recalls the 57-year-old, who – supported by friends and experts – began working on his own cars with tremendous enthusiasm.
His fascination for Porsche and engineering ultimately resulted in his making a decision in 2014 to convert a 911 S from 1970 into a 911 ST 2.3. He used all the special parts that were indicated in the "Motosport engineering manual for Porsche drivers" published in 1970 4 this vehicle. Things like front bumpers, bonnet and bumpers made of glass fibre reinforced plastic, lightweight plexiglass window at the sides and rear, lightweight door panels, wide rear wings, a lowered chassis with 7-inch Fuchs alloys at the front and 9-inch Minilite wheels at the rear, in addition of course to a more powerful engine.
While the crankcase, crankshaft and con rods were taken from the standard 911 S, cylinders with a hard chrome coating and 85 mm bore were used. In addition, the engine was given specially designed cylinder heads with larger ports and two small sparkplugs for each combustion chamber, a Marelli twin plug ignition distributor, Carrera 6 camshafts and Weber 46 IDA 3C carburettors. While Knoll was still in the middle of converting the ST in 2015, he came across the original Repsol 911 ST 2.3. » Unfortunately, it had engine damage, but after a thorough inspection with a couple of experts, I didn't hesitate for one second and made a decision – this means you'll have two!«, recalls Knoll. To remain as true to the original as possible, all he had to do was make a few minor changes, such as replacing the seats and the rear bumpers on the former Spanish racing car. Slowly but surely, both the original and the replica were completed and today thrill the crowds at classic motorsport events, in particular historic rally enthusiasts.
To be able to call a 911 ST 2.3 your own is good luck in itself. To have the choice of driving either one of two examples of the 230 bhp Group 4 Porsche 911 is pure luxury. "In this way, I can go easy on the original car (left) somewhat", says Nikolas Knoll.
Porsche 911 ST 2.3
TECHNICAL DATA
Engine: 911/02 6-cylinder boxer engine
Displacement: 2,247 cc
Bore x Stroke: 85 x 66 mm
Compression ratio: 10.3:1
Maximum power: 230 bhp at 8,000 rpm
Transmission: 911/01 5-speed manual with limited slip differential
Unladen weight: 930 kg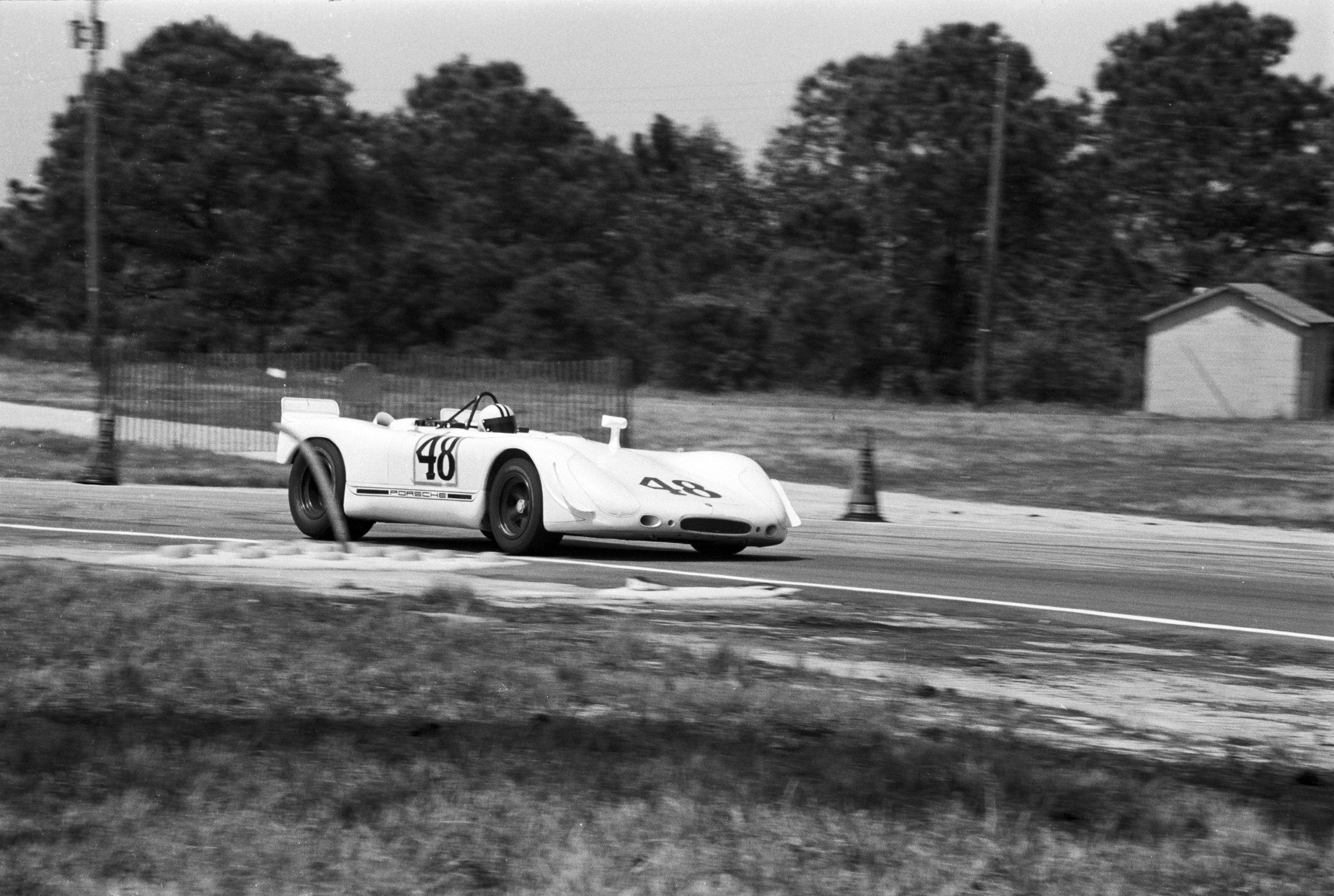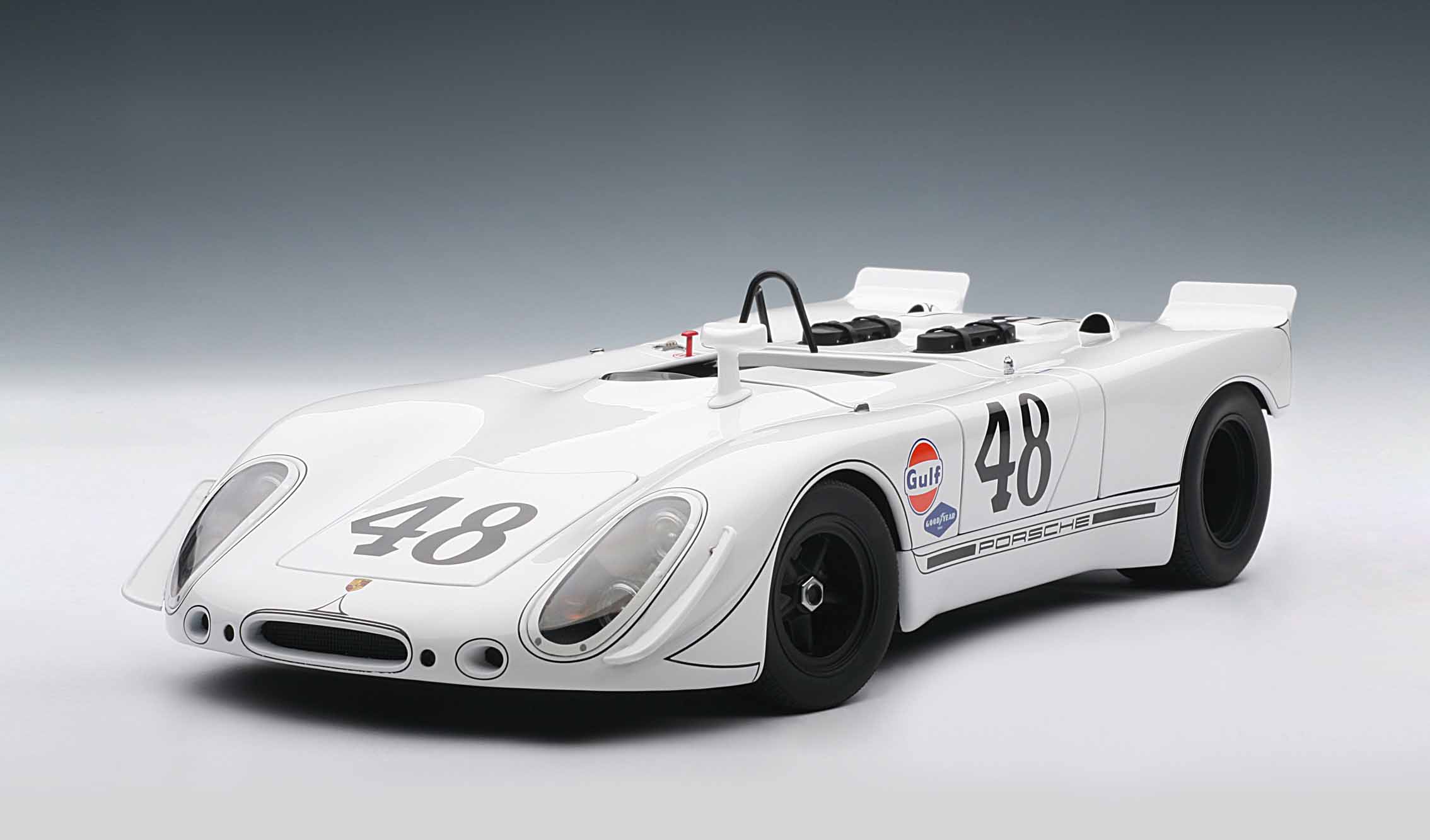 Among the feature cars this time around is a good one: the 908/2 Spyder Flunder that Steve McQueen and Peter Revson drove to 2nd overall and 1st in class at the 1970 12 Hours of Sebring. Entering the race in the smaller-displacement 3.0-liter prototype class, the team was under-gunned against the mighty 5.0-liter factory Porsche 917s and Ferrari 512s. Despite the lower power output, the 908/2 held a power-to-weight advantage and as is often the case in sportscar racing, attrition played a role in the race. This allowed McQueen and Revson to punch above their weight as, one by one, the factory Ferrari and Porsche prototypes hit mechanical troubles.
Despite wearing a special leather and metal boot to support a broken left foot he'd suffered in a motorcycle accident two weeks before the race, McQueen was able to double-clutch the car capably during the race, and ultimately only missed overall victory by a scant 23.8 seconds to a certain Mario Andretti in his Ferrari 512.
After the famous race, this 908 became perhaps even more famous, as it was converted to filming duty for McQueen's film Le Mans, when additional bodywork was added on the hood and above the gearbox to accommodate three film cameras. It ran the entire 24 hours of the race, and despite the aerodynamic and weight penalty for the cameras, plus extra pit stops for film (actually whole camera!) changes, the car managed to cover 282 laps of Circuit de la Sarthe and finish ninth overall.
Of note from the above photo gallery: the image of Steve McQueen driving the minty-fresh, brand new car with the #66 livery is from a SCCA race at Holtville Aerodrome International Raceway in February 1970, just prior to the Sebring 12 Hours that year.
Photos: Porsche Archiv / Porsche Werkphoto
Special thanks to Matt Stone, author of McQueen's Machines, The Cars and Bikes of a Hollywood Icon, for sourcing the images.